In general, the Freewheeling Gentleman does not attract undue attention to himself. He does not wear unbecoming cycling tights, ride a garishly adorned velocipede, or ring his bell in a manner that distracts and annoys others. The consummate Gentleman makes every attempt to look and behave decently, with a conservative style and a respectful demeanor.
There is one occasion, however, when it is imperative that the Gentleman make himself noticed. That is when cycling at night.
There was a time when many bicycles came with full lighting systems. These lights were part of the bicycle's initial design and were integrated into the machine flawlessly. My 1963 Raleigh Sport still has it's original lighting system in full working order: a bottle generator powering a large chrome bullet-shaped headlight mounted on the stem and a smaller red taillight mounted on the left hand seat-stay (see below--this model is actually a Superbe with a hub-generator, but the lights are identical).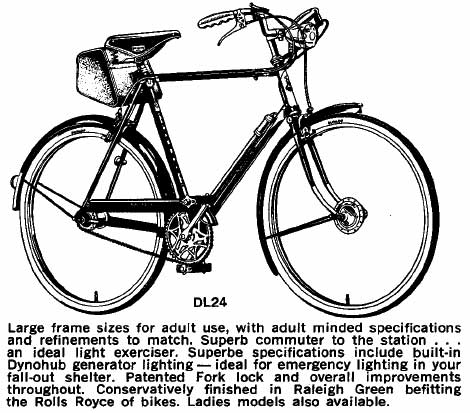 image from
Retro Raleighs
Considering that this tried-and-true system still functions battery-free after almost 50 years, one must wonder why generator lights have fallen out of favor in decades of late. One reason is the proliferation of battery-powered lights, which require no additional effort from the rider to illuminate. They are often cheaper and claim to be brighter. But from this Gentleman's experience and research, any advances in lighting technology that have been applied to battery lights have also graced the more humble generator clan. Generator lights today are astoundingly efficient and just as bright as their battery-guzzling counterparts. The drag from today's generators--either hub or bottle driven--is not crippling to the rider. Plus I feel that the gentle whizzing of the bottle-wheel ads another element of safety when riding at night. Pedestrians can hear you coming. On an old trusty Raleigh, the drag is noticeable and the lights are not very bright by today's standards, but the newer generations throw all the old myths about the slow, inefficient bottle generators out the window.
Myra Simon wrote a treatise on bicycle lighting systems that I highly recommend reading. It can be found
here
. Also, a fine selection of modern high-end generator systems can be found at
Velo Orange
. I do not endorse them over any other distributors, but they do carry the best selection I know of. Their Spanninga Safe Set (available elsewhere) provides a high-efficiency bottle generator, a halogen headlight and a taillight for around $60. This is perhaps the easiest and most economical way to equip your bicycle. Installing and wiring the generator-headlight-taillight system is a nice weekend project. The price may seem steep, but is in fact quite comparable to battery alternatives.
Also you will have peace of mind knowing that your lights will never fail when you need them most (a disaster!) and you will never need to buy a battery again. In this day-and-age of carbon credits and green guilt, knowing that you do your part by riding a human-powered vehicle with human-powered lights can save you from some of the soul-searching your energy-wasting comrades will have to deal with.
The small initial capital required to get started with a generator lighting set pays off when you take into account the battery savings and peace of mind you will acquire from doing something healthy and responsible.
Oh yes, another great source of information and equipment is
Peter White Cycles
.